Several weeks ago, it came to our attention that ginandtacos.com has a small group of readers in Australia. Coupled with the fact that America-bashing is a popular (and justified) pastime in most of the world today, we thought it was fair to devote a little space to talking about assholes who run other nations. America may have perfected the art of semi-literate leadership by bravado, but we didn't patent it.
Which brings us to the Right Honorable John Howard. Most Americans do not know who John Howard is. Those who do already understand that the United States has company on the list of affluent nations that really ought to know better and should be ashamed of themselves for electing such people.
John Howard, like George Bush, is the kind of leader that one would expect to find at the helm of a dilapidated former Soviet republic or a Latin American banana plantation. Or perhaps some crackpot African post-colonial nightmare. But no, he is the elected leader of a nation whose standard of living is among the finest in the world.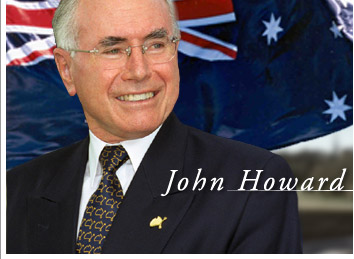 Howard: Australian for dick
Mr. Howard's coalition widened its lead in the Aussie parliament, earning an unprecidented tenure in office for himself in the process. His political career has been distinguished in a number of ways.
He laid claim to almost $2 billion in oil reserves in East Timor, a claim that he refuses to adjudicate in any international body because he knows how asinine it is. Timor is a prosperous nation that doesn't really need its natural resources, especially one as worthless as oil.
He maintains a nice cushion of popularity among the lowest common denominator in his nation by making frequent and thinly-veiled racist appeals regarding the "boat people" attempting to reach Australia from Indonesia and other similarly shitty nations. He also demanded that photographers not take or circulate any "humanizing" pictures of refugees. Brown people aren't really human, they must be photographed in a certain way in order to so appear.
He leads efforts to systematically defund the educational system while repeatedly claiming that he is doing nothing of the sort. Fancy book learnin' is the enemy of freedom everywhere.
He steadily relies on the old "repeat a lie enough and it will be true" theory by repeating the claim that votes for the opposition Labor party will add hundreds – hey, maybe thousands – of dollars to the average family's expenses through higher interest rates (which are controlled by a central bank, not the Parliament). Draw your own analogies to "terrorists want you to vote for Kerry."
Lastly, he has been a nice obedient puppy regarding Iraq, doing little more than photocopying the White House talking points of the day and repeating them with some local color added.

This exercise may seem boring and/or pointless to many readers, as the day-to-day happenings in Australia are about as relevant to life in the Midwest as the volcanic activity on Venus. However, ginandtacos.com would feel derelict in its public responsibilities if it left its readers with the impression that A) America is the only civilized nation run by a crass xenophobe who ain't too bright or B) that this website's desire to excoriate such people has borders.

While I'm sure the Aussies have some sort of cute-sounding pejorative slang to describe men like Bush or Howard, in our eyes an asshole is an asshole in any language or time zone. We forgave Australia for Mel Gibson, INXS, Paul Hogan, and Silverchair. We have turned a blind eye to the Crocodile Hunter. We even put up with Foster's. But this cannot stand. While the rest of the world is right to look at us like we're pricks for electing Bush, people in glass houses should be mindful of starting rock-throwing contests.