All but the most casual baseball fans know that Eddie Murray is a legend – first ballot Hall of Famer and a rare member of the exclusive 500 home run, 3000 hit club. There is nothing to be gained by debating something as obviously true as Murray's status as one of the greats. Similarly, serious fans understand that, despite having the most staggeringly awesome nickname in baseball history, Fred "Crime Dog" McGriff is not going to make it into Cooperstown. He probably won't even be on the ballot anymore after a few years.
We know Crime Dog's problem because we have all heard the argument: good but never great, no MVP awards, no singular defining moments in big games, and only six All-Star selections in 19 seasons. He is the classic "accumulator", a guy who approached big milestones simply by playing forever at an above-average level. Never a true star. If there was a Hall of the Very Good, McGriff would be in it. But not the Hall of Fame.
So it would be pretty silly to compare Crime Dog to Steady Eddie Murray, right? Of course it would, inasmuch as they were the exact same player. No, I take that back; McGriff was better.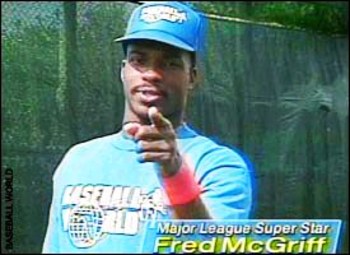 PLUS, TOM EMANSKI COMMERCIALS. TAKE THAT, MURRAY.
McGriff retired with 493 HR and 2490 hits, both short of the magical 500/3000 markers. Murray posted 504 and 3255 hits, easily clearing the hurdle on hits but just squeaking by on HR. If McGriff had hit a paltry 7 more HR over 19 years, he would get into the HOF. Why? Because everyone with 500 HR gets in. Because it's 500! Which is a magical number! McGriff with 493 = good not great. McGriff with 501 = Hall of Famer.
Crime Dog matches up favorably with Murray in almost every category. 6 All-Star appearances in 19 season (8/21 for Murray). No MVP awards for either. One World Series ring each. A slash line of .284/.377/.509 (.287/.359/.476 for Murray). OPS+ of 134, five points above Murray's 129. Both played first base, and defense is one area in which Murray clearly outdoes Freddie (3 Gold Gloves, 6.5 career defensive Wins against Replacement). But let's not kid ourselves, nobody voted for Murray because of his D and no one will vote against McGriff on that basis either.
Here's the best part: McGriff's failure to hit the 500/3000 marks was nothing but a stroke of bad luck. Consider the following:
In 1994, McGriff fell victim to the players strike/lockout. That year he averaged 1 HR every 14 plate appearances. He played 113 games. Assume a normal season in which he plays 150 games at 4 PA per game. He lost 37 games, or 148 PA. At his HR rate, that means he lost 10 HR. So without the strike, McGriff ends his career with 503 HR. Murray hit 504.
McGriff's first season as a full-time player was age 23. Murray started at age 21. So on a per season basis, McGriff averaged 131 hits and 26 HR. Murray averaged 155 hits and 24 HR per season. Murray crossed 500 HR just by playing a little longer – he was an Accumulator.
Murray hung on until the dog-ass end of his career to reach 500 HR. McGriff tried but couldn't find a team to give him the at-bats. McGriff's last season, age 40, lasted only 27 games and a 53 OPS+. Murray's, age 41, was 55 games at the same terrible OPS+ (55). The big difference was that at age 40, Murray managed to convince the Orioles to bring him back for a sentimental homecoming…and 152 games/637 plate appearances of playing time. They put him out on the field that much even though he was horrible (87 OPS+). So basically Murray should have hung it up at age 40. But he didn't. He found a team to let him play a full season and tapped out 22 HR, including his 500th.

In short, Murray was the classic Accumulator. He was never a true superstar and he crossed the 500/3000 because he played forever and never got hurt. None of his career statistics differ significantly from McGriff's (not to mention other Accumulators like Paul Konerko, Rafael Palmeiro, or Dave "I'll play until I'm 43 to get 3000 hits" Winfield). He was a better defensive player than the Crime Dog but that is about it.

So the question is why Murray is a first ballot Hall of Famer and McGriff is not HOF-level. It boils down to the worship of arbitrary statistical milestones, namely the 500 HR barrier. In the most important stats like OPS+ or OBP, McGriff was actually better than Murray (and Winfield). A player's career does not become more impressive – certainly not in any meaningful way – when he moves from 499 to 500. Usually sportswriters and HOF voters fall back on the "no championships" argument, but Murray and McGriff each own a ring and the same number of WS appearances. Instead, they have to rely on dumb statistics like wins, total hits, and career HR totals to include or exclude players who never played in New York or Boston failed to meet the nebulous standards of true "stardom."

(PS: If I really wanted to be mean we could have used Andre Dawson, Jim Rice, or Winfield as a comparison instead of Murray. WTF on Dawson. Nice 119 OPS+ and .323 OBP, loser.)