I'd like to qualify the following by pointing out that no one enjoys the comedic value inherent in right-wing histrionics more than I do; the vein-bulging, voice-cracking spiels of pure bile that are bemusing until you realize that the speaker is dead serious, after which point it simply becomes a theater of the absurd.
To wit: typical Republican Senator v.2006 David Vitter of Louisiana, re: the gay marriage debate in Congress. "I don't believe there's any issue that's more important than this one."
Now, I understand that this is prima facie amusing due to the high levels of melodrama and absurd exaggeration. It is the kind of thing that one would expect to hear from any random, generic Republican lawmaker these days. But here's the really funny part. Wait for it….
David Ritter represents the state of Louisiana. So when he's saying that no issue is "more important than" gay marriage, it's implied that his constituents are more concerned about gays than any of those…other problems the state has endured recently.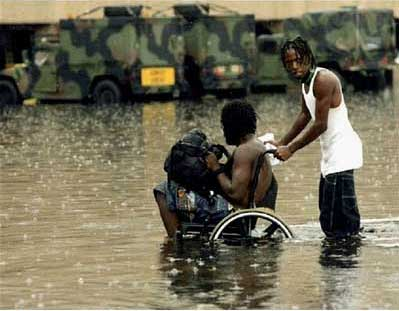 A man rushes to move his handicapped friend away from local gays
Apparently all that "dying" and "complete devastation" are not important to Louisianans. The problems have been resolved or, to the extent that they remain, are clearly less important than gay marriage.
Click here to email Senator Ritter and congratulate him on his ability to put his priorities, and those of his constituents, in the proper order.

New Orleans residents assemble for a public rally in support of traditional marriage
Do these jackasses have any idea how badly this is going to backfire? If it doesn't, then any remaining shred of faith you may have in the American public can safely be flushed down the toilet.