If I told you that a bar in Milwaukee has constructed a fake Brazilian "favela" (slum) in its rear alley to attract viewers of the World Cup you'd probably think I was kidding. Which is too bad, because a bar in Milwaukee has constructed a fake "favela" in its rear alley.
buy grifulvin online buy grifulvin no prescription

It's really "authentic", with fake laundry strung across the fake windows. It will be just like being poor but with flat screens everywhere and $9 microbrews on tap.
The Nomad event includes the temporary construction of a courtyard viewing area inspired by the colors and spirit of the mountainside "favelas" of Rio de Janeiro, Brazil. The "Nomad Favela" takes over an adjacent parking lot and consists of a surfboard bar, a Belair Cantina taco shack, and large outdoor space to view all of the tournament's soccer matches on six large televisions. The unique space is the collaborative effort of a small group of volunteering artists and craftspeople and includes several from Makerspace.
The Nomad's own website, which I refuse to dignify with a link, refers to it as their "shanty town":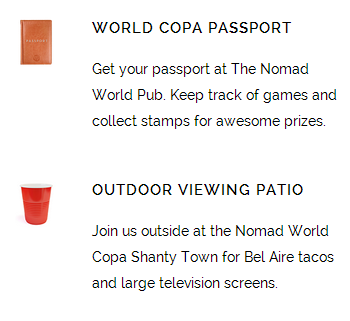 No word yet on whether makeup for donning blackface will be provided or if any of the 99.99% of Brazil that is Not Favela will be represented in some way. This is one of those instances, not unlike when frat kids decide to have a "Pimps and Hoes Party" or something equally racist, in which I can't believe that a large number of people were involved in the planning and execution of this idea and not one of them said, "Hey maybe this is in poor taste.
buy augmentin online buy augmentin no prescription

" Then again, this is the city that birthed that stillborn homunculus Scott Walker into the political world. Maybe we shouldn't be shocked.
What should the Nomad do next? Fake ghetto for the NBA Finals? Faux trailer park for the Daytona 500? Replica igloos for the Stanley Cup? The possibilities for creativity in staggeringly poor taste are limitless!