An economics textbook could probably phrase this more eloquently than I do, but I'm fond of saying that the final stage of the life cycle in capitalism is self-parody. First you sell people an SUV, then when you get criticized for it you sell even bigger, dumber SUVs. You try to entice people to eat at a place called Golden Corral, and once you become the symbol of the rural obesity epidemic you install a fountain that oozes pestilent, lukewarm chocolate on any object placed in its orbit. First you sell the Shake Weight as an exercise implement, then you make fun of yourself and sell even more as joke gifts. Basically, you make one last financial windfall on an idea by becoming a caricature of exactly what you were accused of being all along. When everyone mocks your bad food and gargantuan portions, fuck it: introduce the Super Size.
Now that the bloom is off the rose of the Susan G. Komen For the Curetm foundation, fewer people look at it as a good way to support cancer research and more look at it as a shameless marketing firm that will slap a coat of pink on anything for a buck. The foundation appears to have embraced the hell out of that stereotype, partnering with some fracking company to paint an industrial sized drill bit pink. You know. For the Curetm.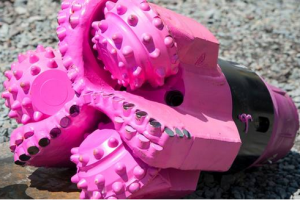 This is not the Onion. A company engaging in an activity proven to increase cancer rates in the vicinity came to Komen, proposed splashing some pink paint on their equipment, and the people running Komen said, "Sure, why not!" Because fuck it, right? Once people have figured out that you're a joke you might as well be the biggest joke you can be. Having long since established that shame is not a relevant concern in free market capitalism, once you no longer care about your reputation the opportunities to cash in become legion.