What we have thought for years has become painfully obvious – John "Orange Julius" Boehner has no real power and no control of his own caucus. Anecdotal evidence has suggested this in the past and now the hard numbers back it up. According to VoteView, there is a clear divide within the House GOP on the Homeland Security supplemental.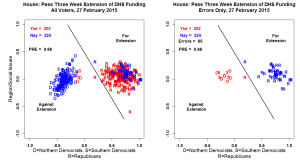 When the Speaker of the House gets elected by the smallest margin ever and then cannot deliver a three week budget extension through the House with a massive majority, it's safe to say that the spirit of Joe Cannon has not returned to Congress in a new host. That vote also demonstrates the increasingly frequent consequences of the Republican Party's incredible lurch to the right over the last two decades (also from VoteView).
buy singulair online buy singulair no prescription

It's worth noting, for the conspiratorial or anti-intellectual factions, that VoteView is the product of two of the most conservative people I've ever met in academia.
buy levaquin online buy levaquin no prescription

Guys who make Glenn Beck look like Jane Fonda (who they both hate, because of course they do). The thing is, they also have a great deal of integrity and they're more interested in the accuracy of their analysis than making ideological points. Having been a colleague of one of them for a few years and being subject to every manner of Thanks Obama rant, I have to laugh every time his findings end up being used in stories on major news sites and someone in the comment section comes forth to remind us that Ivory Tower Librul Professors are not to be trusted.
In any case, we are rapidly approaching a reality in which House Republicans are too conservative even for…the House Republicans. They provide a nice counterweight to those communist Democrats who have barely moved ideologically in a century-plus.