If you have never noticed that most (but not all) post titles here are song titles or lyrics, rest assured that today it was a difficult choice between what you see above and "Stop Me if You've Heard This One Before." Because I know you're going to be truly shocked to hear this, but the UK's vote to exit the EU is yet another example of people over 50 voting to destroy an institution that, having benefited from it for decades, they no longer wish to pay for. There is some interesting exit polling data here that ultimately boils down to a tale you're tired of hearing. Old people wanted it, young people didn't. Dumb people wanted it, people who have Fancy Book Learnin' didn't. Repeat until we're fighting over a conch shell.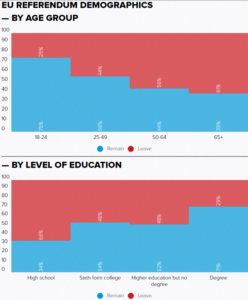 It's impossible to read voters' minds based on election results. Vote totals are like an ancient oracle – everyone agrees that they are saying something but exactly what is, even if few are willing to admit it, ambiguous at best. It is hard to tell if older British voters are ignorant of how much they as individuals and as a group benefited from membership in the EU or if they simply no longer consider the benefits to be relevant to them personally and therefore no longer care to pay for others to enjoy them. If they are retired on fixed incomes, perhaps they simply no longer respond well to arguments about The Economy writ large. If they don't care to leave a 20 mile radius around their homes, maybe unrestricted travel within a group of 27 nations has lost its appeal. Or perhaps they're at that point of decay at which fear of a changing world, dislike of anyone and anything Different, and good old fashioned nativism trumps anything approaching a rational analysis of costs and benefits.
Ironically, if the UK is anything like the USA, the Eastern European immigrants that so vex older British people are the only ones who will accept the pitiful wages offered to wipe their ancient asses in hospitals and retirement homes across the country. At this rate, god knows their children will be neither willing nor able to care for them as they age. We've already got two jobs that don't pay enough to make ends meet.