(Editor's note: The Lieberman Award is given annually to the worst example of a human being over a twelve month period. Click the tag at the end of the post to review past winners.)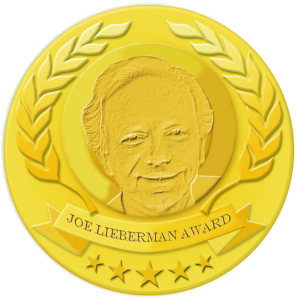 Enough ink has been spilled over Donald Trump and the people who made his rise to political power possible. I owe you more than to do something as obvious as declare the president-elect the worst human being of 2016. You'd have to go back to Hitler to find an equivalent example of one human being who was so singularly responsible for ruining an entire 12-month period for such a large number of people. But I thought it would be more interesting to take a closer look at someone you heard almost nothing about in comparison, someone you may even have completely forgotten about. Besides, Trump won this award last year.
Why Tim Kaine? What did Tim Kaine ever do to anyone? He was almost a total non-entity in 2016, yet he symbolizes everything that went wrong with Hillary Clinton's campaign and the strain of Democratic Party politics that has proven itself time and again to be a disaster. In the true spirit of the Lieberman Award, Kaine is the embodiment of the New Democrat centrism that sounds suspiciously like being a moderate Republican. His choice as the running mate is, in hindsight, one of the clearest signs that Clinton still doesn't Get It, writ large.
Certainly there are some merits to picking Kaine. He has extensive elected experience which made him a good choice for the Clinton campaign's strategy (which I talked about over the summer) of giving Americans a clear choice between Adults in the Room and a disorganized lunatic. Even with the benefit of hindsight it isn't the worst strategy ever conceived; it simply has the fatal flaw of giving the American public a little bit of credit for intelligence. It is premised upon the belief that voters aren't really going to turn the country over to a lunatic just because they're angry and his opponent is short on charisma. That turned out to be a bad gamble.
Really, what is Tim Kaine but a time capsule from the W Bush era, a Democrat perfectly designed to win a statewide election in a reddish-purple state circa 2006? He is the culmination of the Bill Clinton-led New Democrat movement in the early 90s that posited that the best way for Democrats to win elections was to do most of the things Republicans do but, I dunno, seem a little less bloodless and unhip while doing it? People like Kaine are a way for educated white people to vote for a Republican without having to feel bad about themselves because the name has "D" after it. The turn to Eisenhower Republicanism produced some short-term success for Democrats, but the 2016 Clinton campaign is likely to be its Waterloo.
As another writer put it, Tim Kaine is Civil Unions. Tim Kaine is every half-assed compromise position that New Democrats have proposed over the past 25 years in the belief that what voters really want is a candidate who thinks a lot and kinda refuses to take a firm position on anything. He is the personification of the belief that trying to please all of the people all of the time is both possible and desirable. Is Kaine the worst human being on Earth? Of course not. But he is an excellent case study in a political ideology so bankrupt that it could not stand up against a candidate who ran literally as a joke and was as shocked as anyone that he won anything.
buy Xenical generic rxbuywithoutprescriptiononline.net over the counter

For everyone who criticized Hillary as a wishy-washy, right-leaning panderer who sees herself as entitled to the nomination of her party, Kaine is Exhibit A. This guy has zero future. He's an anachronism in 2016; by 2020 or 2024 he will be a fossil. He has no appeal to the kind of voters the Clinton campaign as a whole could not rally to their cause. In an increasingly multiracial, urban country, Tim Kaine is the argument in 2004 that what a candidate really needs to do is appeal to enough soccer moms and NASCAR dads.
Tim Kaine may be a nice guy. He has done some impressive things for Virginia and as a civil rights litigator. But as a presidential running mate in 2016 he only reinforced the fatal attachment of a lot of the Democratic Party power structure to a thoroughly outdated and failed set of ideas. He is a relic of the time when the Party could conceive of no other way to win better than to be more like Republicans and hope that real GOPers were personally repugnant enough (and they often were) to repulse voters. He is the poster child for a party faction that stands for nothing because it is so eager to stand for whatever it believes you want to hear from it.
Congratulations, Tim Kaine. You seemingly were cast into the dustbin of history before this campaign was even over, but you will now be immortalized forever as the winner of the 2016 Lieberman Award. Go. Go away. And take Donna Brazile with you.