Not cool with the slow rise of fascism? Don't think it's normal to have a white supremacist blogger on the National Security Council? Then it's time to let everyone know where you stand.
What: The all-new Gin and Tacos "None of this is OK" shirt. Canvas brand, screenprinted (no print on demand BS) front and back, Navy Blue, women's v-neck and men's/unisex crew neck available. Canvas sizing guides for unisex and women's v-neck shirts.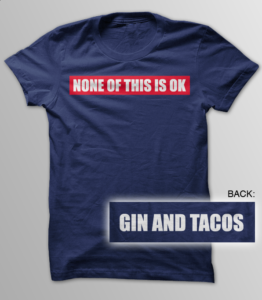 When: This is a pre-order for shirts I will have in my hands in three to four weeks. That means they will likely ship to you the week of July 4. If I can get them earlier, so will you. I appreciate your patience. I am not an Amazon warehouse. I am a dude in an apartment with some mailing labels and envelopes.
Cost: $20 for either style (unisex or women's). PayPal only please.
Shipping: $4 is added to each US order for shipping + packaging. For international orders, I'm sorry to say shipping is $10. While I am not looking to become a titan of commerce here, I do have to avoid selling these at a loss and Int'l shipping costs $12-15 from the US.
Ordering: Please use the correct order button, Domestic or International. Anything outside of the U.S., even Canada, must use the International button.
Don't be left out!