By (actual, not pretend) popular demand on the Facebook group, I'm doing another run of the suddenly very appropriate "None of this is OK" shirts. The front design remains unchanged (as pictured here) but if the screenprinter can accommodate it, I'm going to have the reverse text ("Gin and Tacos") replaced by small text on one sleeve this time. Looks a little more stylish, or at least it's something different.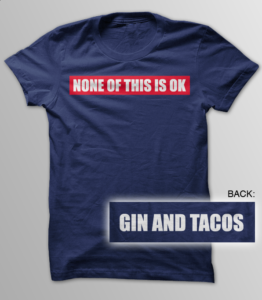 Other details that remain unchanged: Navy blue Canvas (or BellaCanvas for Women's) shirts, Unisex/Men's in crewneck and Women's in V-neck. Canvas sizing chart available here. Sizes S – XXL in either Unisex or Women's. Contact me if you need 3XL – sometimes they are available, but often they aren't. Shoot me a message and I'll do my best.
This is a pre-order and you will receive your shirts in early to mid July, depending on how busy the printer is. $18 (slight upcharge for XXL) plus $4 s/h in the USA, $14 s/h for all other countries. I'm sorry about that, but package shipping overseas (incl. Canada) has gotten incredibly expensive lately.