(Editor's note: The Lieberman Award is given annually to the worst example of a human being over a twelve month period. Click the tag at the end of the post to review past winners.)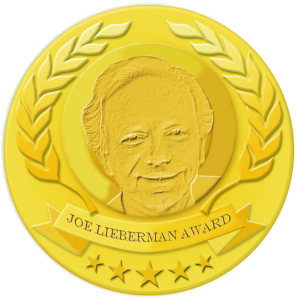 One of my goals with year-end stuff is to avoid low hanging fruit, choosing someone like Donald Trump (who, in an act bordering on prescience, I awarded the Lieberman back in 2015), Sarah Huckabee Sanders, or Dinesh D'Souza. It's so easy to make the case that such people are terrible that it doesn't even seem interesting or worthwhile to do. As a result, the Lieberman Award more often gravitates toward people like its namesake…sanctimonious Centrist Types who like to be lavished with Sunday talk show invites and talked about as a very important person in a town already crowded with big egos.
It was extremely tempting to give the award, for the first time ever, to a woman and choose Susan Collins, but in the end I could not think of a good reason to differentiate her from Jeff Flake, Ben Sasse, or any of the other "Gosh, I sure am disappointed in Trump but I intend to do nothing whatsoever about it and I'll vote in lockstep for everything he wants" types. It was equally tempting to pick Georgia governor-elect Brian Kemp for his egregious attempts (as Secretary of State) to game his own election. Knowing Georgia politics, though, he could have been the nicest, most honest guy on Earth and he would have won that race anyway, which renders all his chicanery somewhat pointless in practice.
Instead, I think it's time to talk about how utterly terrible Chuck Schumer is at his job, and what a shame that someone holding a Senate seat in a state Democrats can't conceivably lose – someone who could be an actual liberal pushing actual left policy ideas without being punished at the ballot box – is held until death by such a ineffectual, stuck-in-2002 guy like him.
The final straw was that Nancy Pelosi gets a lot of criticism from the left for being too centrist and an uninspiring, ineffectual leader. Some of that criticism has come from me. Yet Schumer is demonstrably much worse at his job, and he's not getting leadership challenges or an equal amount of bad press. It's patently false to say "Well nobody criticizes Schumer, only Pelosi!" because people (again, including me) shit on Chuckie all the time. But watching him sail through another confirmation while Pelosi received an actual challenge (albeit from the center, as if being TOO LIBERAL is her problem) clinched it.
Chuck Schumer is forever performing for an audience that, with the possible exception of the national media, does not exist: the person whose primary interest in politics is to see everyone play nice. Outcomes are irrelevant, so long as everyone is nice to one another while the sausage is being made.
OK, that person does exist. I've had the misfortune of attracting some of them on occasion – people whose politics are somehow simultaneously "Donald Trump is the greatest monster who ever lived" and "I value bipartisanship and decorum so Democrats should work together with the monster." I no longer try to make sense of it other than to assume that West Wing melted their brains.
For that small portion of the electorate, though, Schumer is a godsend. The man has literally no spine. He could get shot and his last words when the police asked who shot him would be "Both sides did it." He "both sides-ed" someone yelling at Mitch McConnell in a restaurant the same week a lunatic was mailing bombs – literal bombs – to prominent Democrats. In advance of the Kavanaugh hearings, he agreed to fast-track a dozen Republican judicial appointees ostensibly so Democratic Senate candidates could have more time to campaign.
In the eyes of Chuck Schumer, twelve hardcore Federalist Society conservatives on the court for life is a good trade-off for Claire McCaskill to get an extra week at home for her obviously doomed re-election bid. It's as though he sees his job as caving to Mitch McConnell in the hopes that if he does it enough times, the Senate GOP will eventually play nice in return. It's beyond naive and well into delusional.
When McConnell was the minority leader, he did every single dirty trick, procedural or otherwise, to delay, obstruct, and derail the majority. Schumer is of the breed of centrist yahoos who think that the most important thing to do is to play nice and then score nonexistent electoral points from pointing out that the GOP is not being nice in return. The end result – the one we've been living in for nearly three decades now – is that the Republicans get what they want when in power and Democrats never do. Air Bud dunks the ball over and over again while Coach Schumer points at the rule book and shouts "But a dog isn't allowed to play basketball!"
Chuck Schumer doesn't get this award because he's the worst person. He gets it because he is so completely useless. If he is your negotiator, you don't have a negotiator. You have a guy who comes back to tell you what the other side wants and explains why you need to give it to them.
No, it's not solely his fault. This is an institutional problem in the Democratic Party, which since Bill Clinton's departure has internalized losing and defines victory as getting anything slightly better than the very worst possible outcome. But the guy is in a leadership position and has been for a not-insignificant amount of time. What does he have to show for it? What have been Chuck Schumer's legislative accomplishments? What has he done to make his GOP counterpart so much as break a sweat to enact his own agenda?
And this is apparently the best leader the Senate Democrats are capable of imagining. They look at this guy and think, well this is the best we've got. It's not just a failure of politics; it's a failure of imagination. They've been without a leader for so long that none of them even recognizes that this isn't it.