The explosion of conspiratorial thinking, including among liberals and the far left, is one of the most troubling developments of the last few years. There are many reasons people are attracted to conspiracy theories, not the least of which is the way they make the world vastly more interesting than it really is. "9/11 happened because the U.S. made the terrible decision to throw money and weapons at every radical jihadist willing to fight the USSR in Afghanistan, plus nobody realized the incredibly obvious fact that cockpit doors should be locked" is, if simplified, a 100% correct explanation. But it has a number of drawbacks.
For one, it requires a half-decent knowledge of history. By "history" I mean anything that happened more than a week ago, and I think we can agree without undue cynicism that most Americans' (most people, really) grasp of history is tenuous at best. The percentage of people who could give a half-accurate summary of the Soviet war in Afghanistan, and the US role in it, is in the low single digits. And most of those few people got their understanding from one half-awake viewing of the highly fictionalized version in Charlie Wilson's War with Tom Hanks.
More importantly, though, it's just boring. It's a boring story when it's told this way. "Some well-educated potential terrorists realized that cockpit doors are unlocked and that, as long as you aren't interested in taking off or landing, flying a modern commercial airliner can be done adequately without too much training" is not satisfying. When things happen, especially traumatic things, we want there to be some Big Plot to explain it. There isn't. There rarely is.
Add in ideology and motivated reasoning – our inherent want for certain things to be sinister because we dislike them – and the widespread seeding of ideas on the internet and we are living in the golden age of crackpot theories. QAnon might end up being the most representative aspect of this era when people study it in the future.
There is a certain subset of center-left or center-liberal people who have hatched a million strange conspiracy theories about Bernie Sanders, almost all of which have to do with Russian Propaganda, the Kremlin, Russia, Russians, and some sort of orchestrated (Russian) effort (by Russia) to create the impression that (Russian Operative) Mr. Sanders (a Russian) has a fan base when in reality he has none. In fairness to these folks, Sanders is not being treated differently – everything, in their new worldview, is a Russian plot. If something happens that is not fundamentally in line with their understanding of the world, Russia is behind it.
This manner of thinking struck me when I saw this dull Tweet from Mr. Sen. Sanders a few days ago: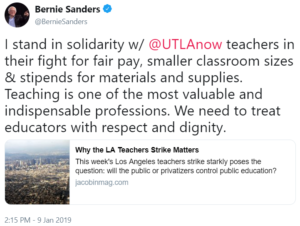 If you are interested in understanding why Bernie Sanders has the dedicated following he does, that is your explanation. Unlike any other Democratic could-be with a national profile, he regularly makes reference to organized labor. No one else with a similar level of visibility does. In fact, most other possible candidates or nationally recognized leaders in the party – even Warren, who is pretty far left – run away from labor (which current orthodoxy holds is a dinosaur from earlier days) or just pays lip service to it. They mention "unions" in the abstract when they want union donations, and that's about it.
It strikes me as funny, but not incredible, that some people choose to ignore the very simple, obvious explanation – He talks about a thing some people like, and other people don't talk about it! – in favor of something convoluted and sinister. Maybe it's just more exciting that way. Maybe it helps them make sense of the world in some way I don't understand.
These things simply do not need complicated explanations unless you go looking for one. Why do people like Beto? Well, he's good looking, he's good speaking to crowds, he's pleasantly neutral (which allows people to project their own beliefs onto him), and he raised a lot of money. Why do people like Bernie? Despite his complete lack of personal charisma, he talks about things other candidates don't, and there is a subset of voters who don't care about candidate personality at all. Pretty simple.
My point is not – since I can already see people reading four sentences and rushing to the comments – that Bernie is awesome and you should love him. I simply do not think it should be – can be – any kind of mystery to understand why he has a following. He does some simple things that other candidates and national political figures don't. If other people did those things and were sincere about it, his fans would likely gravitate to those candidates as well. This isn't complicated.