Here is a story about Sterling Heights, MI residents opposing the building of a mosque in their neighborhood. There is a picture of people protesting on the roadside with the story. But let's be honest for a moment: do you really need to see it?
I think you know exactly what you're going to see. It's going to be a bunch of dumb looking, shabbily dressed white trash with faces that look like they're sucking on lemons. Their haircuts and facial hair will be 20 years out of date. Their shirts will feature motorcycles (or in this case, a semi truck) or jingoistic symbols. Their signs will be poorly scrawled with a marker on Walmart posterboard. They will look like the people you moved out of your hometown to get far, far away from. They are the people who call in to AM talk radio shows and fill local newspaper comment sections with incoherent bile. And you'll see the picture and think, "Yep. Saw that coming."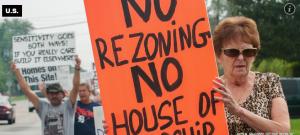 As a good liberal I know I am not supposed to hate these people. I am supposed to feel bad for them, as they are often poor, given few opportunities and shoddy educations, and actively encouraged to lash out at anyone different than themselves by the political and economic elites who ream them six ways from Sunday their entire lives. But here's the thing: I hate these people. Go ahead, take away my membership card. I won't appeal.
To people on the coasts and in the Beltway, these "salt of the Earth" / "Blue Collar" types are convenient pawns. Elites do everything humanly possible to avoid having to live near these miserable excuses for human beings, but when it fits their narrative they are more than happy to wax poetic about the virtues of the plebeians that a fictional character described perfectly as "racecar-loving wide loads." That isn't fooling anyone, though. The disgust is so thinly veiled that it would take an act of willful ignorance not to see it. And you know what? I don't blame them. These old, illiterate, racist, hate-filled people disgust the wealthy Republican candidates who pander to them, and they disgust me too. I'm embracing it.
A lot of progressives believe in engaging people like the ones pictured here in some kind of dialogue, as though they can be appealed to on a rational level to give up their deeply ingrained prejudices and hatreds. Why? What is the point of trying to reason with unreasonable people? Nothing they believe is based on reason, rationality, facts, or evidence. It would make no difference, for example, to politely explain that if the city council denied permission to build some scam artist's megachurch they would be squirting blood from their eyes in rage. The "evidence" that supports their beliefs – mosques as repositories of weapons and terrorists – are nothing more than a recitation of their subconscious insecurities and fears. Do you think explaining that to them will matter? I don't. They don't deserve any of your time or energy. The only thing they deserve is derision.
Call it classism, snobbery, or whatever you want. In my view the best thing to do is ignore them and let time, the law, and social change steamroll them into irrelevance. Just go to court, win the right to build the thing, and forget that any of these people exist. One of the reasons they're so freaked out these days is that they are getting outnumbered and a lot of them are nearing death. Let's use that to our advantage and save everyone the frustration and wasted effort involved in trying to deal with them like adults.