(Editor's note: The Lieberman Award is given annually to the worst example of a human being over a twelve month period. Click the tag at the end of the post to review past winners.)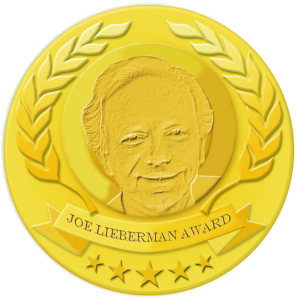 Picking the very worst person of 2017 is not unlike picking the worst aspect of flying on Spirit Airlines. It spoils us for choice and guarantees that whatever we decide will be deeply unsatisfying to large groups of people with very legitimate grievances. We are forced to play the game of "Who is the worst Nazi" both metaphorically and literally these days, and of course it inevitably ends with the tragicomic realization that the task itself is an exercise in futility.
buy vibramycin online buy vibramycin no prescription

So, one of my goals here was to avoid the bleedingly obvious and choose someone like Donald Trump (who, in an act bordering on prescience, I awarded the Lieberman back in 2015) or prominent right-wing / fascist media hacks. I came close to choosing Mike Cernovich after, among his many acts of idiocy as a wannabe white supremacist raconteur, he forged legal documents to make it look like one of Chuck Schumer's staffers accused him of sexual harassment. But this year was such a thrill ride down Fuck Everything Boulevard that such ephemera hardly register, lost almost immediately in the screaming miasma of awfulness.
Instead a late entrant to the competition – a Dark Horse of cliches and subconscious white supremacy – takes the coveted award for 2017: the mainstream media journalists who persist, more than a full year after the election, in doing Cletus Safaris. What is a Cletus Safari? It's one of those innumerable, insufferable, "Let's go to Rust Bucket, Ohio and interview the old racist white people who voted for Trump and see what they have to say now" pieces that every major news outlet feels obligated to churn out once per month. "Safari" is an appropriate term because it has every bit of the feel of a journalist venturing into the jungle looking for wild animals or naked Savages. The White Working Class (because editors insisted that some kind of tactful synonym for "Midwestern white trash" would make it sound professional and palatable) is fascinating to Beltway and NYC journalists in a sense that goes far beyond the political and lands firmly in the anthropological.
The allure of these pieces, I admit, is strong. They are click magnets. We all want to point and shout "Look!" when presented with the latest batch of stupid, racist quotes from people whose worldview is a sad amalgam of forwarded emails, Facebook comment sections, Fox News, Breitbart, and increasingly severe delirium tremens. We marvel and laugh – for what else do we have for joy these days except a good schadenfreude laugh? – at the rotund, mustachioed morons as they swear coal is coming back and assert that Trump works real hard while Obama spent all his time golfing and, most recently, think they're going to get a tax cut next year. We read these for the same reason that we watch shows about addiction, hoarding, or bed-bound 1000 pound people – because some part of all of us wants to gawk at freaks, and an even bigger part of us needs to remind itself "At least I'm not THAT fucked up!" when we're feeling down.
But the Cletus Safari is, if I can use an extremely polarizing but appropriate adjective, a deeply problematic piece of journalism. Scratch the surface and you see that while this certainly is an acceptable form of Nelson Muntzing dumb poor people (Since the subjects are inevitably white, white readers don't have to feel guilty for mocking them) it is also a severe distortion of reality that – surprise! – reinforces the perception that what is Real, what counts, and what is truly important is what White Country Folk think. They are, even to doubtlessly left-leaning journalists who write these pieces, the Real America.
The problems with that logic are almost too obvious. One is that almost nobody lives in rural areas anymore, and the kind of Rust Belt city ("city") that inevitably serves as the setting for a Cletus Safari – any fading pile of crap in upstate NY, central PA, Ohio, Michigan, or Wisconsin will do – is rapidly shrinking. And to the extent that the population of such places is stabilizing or even growing, it is because of the influx of largely Hispanic newcomers moving in. So not only are these old racist white people not representative of America as a whole, they're not even representative of, to take a recent Cletus Safari example, Johnstown, PA (which Hillary Clinton won).
buy doxycycline online buy doxycycline no prescription

The second problem is that it has long been widely recognized that these people are impervious to facts, and thus there are diminishing returns to pointing out that the things they say and believe are stupid and wrong. We get it.
Third, and most potentially damaging, is the way these pieces reinforce the idea that white opinion and white votes are more valuable. For every one old white asshole living in Janesville, WI waiting for Trump to give him a wall-building job, there are ten Hispanic immigrants from the last 30 years who gained US citizenship but doesn't regularly vote. There are x African-Americans disenfranchised from the political process by legal machinations or earned cynicism from years of Lip Service Only treatment from Democratic politicians. There are millions of young people who see a political process that has nothing to offer them but disappointment and thus they don't vote. The subconscious emphasis of the Cletus Safari – that white idiots must be Won Back somehow, no matter the cost – is the single biggest yoke around the neck of the American left. And we put it on ourselves.
Fourth and finally there is the obvious data-driven reality that Trump didn't win in mythical Trump Country – he won the election in the very white, generally well-off suburbs of major cities. Every Republican does well with the kind of Cletus we keep sticking in front of cameras and microphones if for no reason other than he is ordered to. The bubble in which he lives is carefully structured to produce the same outcome regardless of who has the R next to his name on the ballot. That person is gone, from the Democrats' perspective, and he is never coming back. More crucially – and this is the part they can't get through their heads – it is not worth it to try to get him back when there are so many eligible voters who do not vote because they see nothing for them in the centrist version of the Democratic Party.
A tangential but important point is the way these stories debase the idea of what journalism is ideally supposed to be. Rather than putting a microphone in front of the most well-informed person to be found, this is the culmination of LOL Reportage that looks for the dumbest person and gives him or her a platform. There is ample room for lolz and mockery in the world, and god knows I love it as much as anyone. But consider that what was once a staple of Jay Leno's laziest but consistently funniest on-the-street gag is now common practice for journalists at our most important mainstream media outlets. Not encouraging, is it?
If any piece of journalism purports to show "Real America" then it would show us a diverse array of viewpoints because Real America is diverse. Instead, journalists not only insist on going to places that no longer represent the mean or modal America – Shuttered Mill, WI or Superfund, PA or whatever – but on finding people who are not even "the average person" in those communities. No one denies that "Look at how stupid these old racist white Trumpers are" was funny the first time or two, but after two years of such anthropological studies enough is enough. At some point it stops being funny and begins to reinforce the idea that one kind of person is important, real, and valuable to the political process. That point was long ago reached, and that is why the writers and editors that continue to pump out Cletus Safaris are the very worst people for 2017.
Stop it. We get it. Now stop it. If you really cared about the voices of Real Americans, how about some who aren't white, almost always male, and running out the clock on their shit lives in the land that time forgot.